Few weeks ago I ordered the Turnigy Thrust Stand and Power Analyser v2 from HobbyKing. The initial thrust measurements were not accurate so I took it apart to discover one of the linear bearings was bad. This weekend, the bearing replacement arrived. After a swap and few drops of motor oil the weight measurements were spot on. The electrical measurements were correct as I verified with an external G.T. Power RC module.
The Setup
I have two identical nano-tech 2.2Ah tanks that get swapped after each prop. If the voltage goes below 16.7v I top them off. All motors are brand new and never flown on a quad. Those are the spare 5th I keep "in-case" for my builds.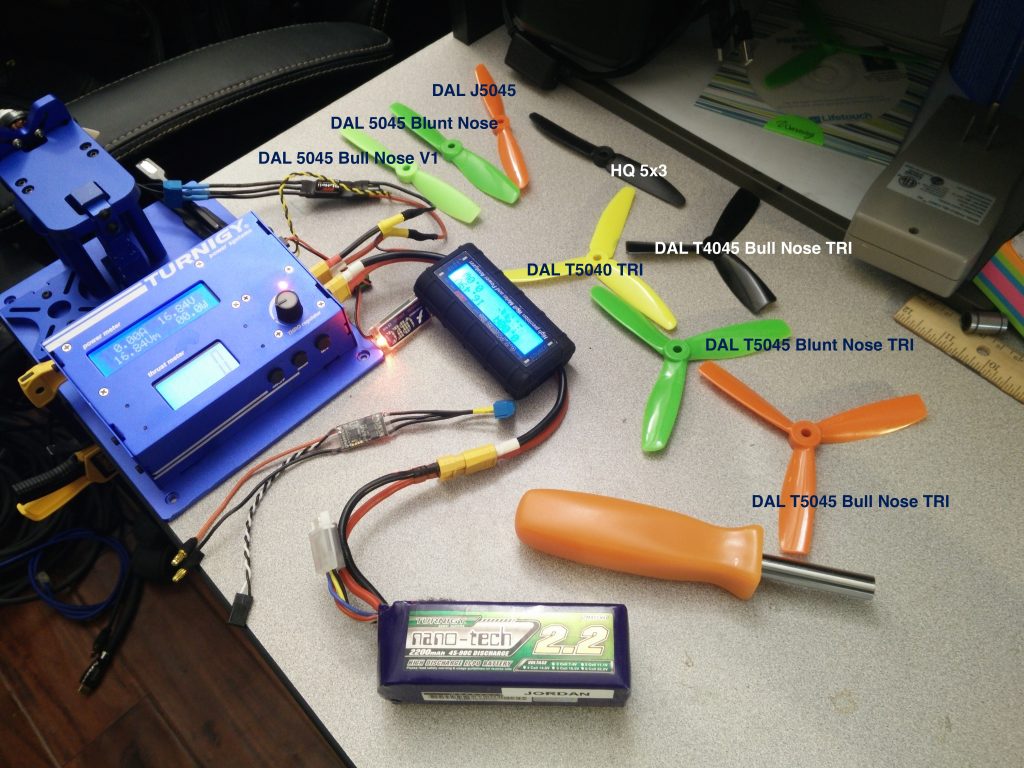 ESC: DYS XM 30A BLHeli 14.3 – medium timing
LiPo: 16.7v nano-tech 4S 2200mAh 45-90C
Props: I mostly fly DAL pros so that is what I focused on. I was curious about the HQs so I threw them in the mix:
DAL T5045 Bull Nose TRI
DAL T5045 Blunt Nose TRI
DAL T5040 TRI DAL T5040 TRI
DAL 5045 Bull Nose V1
DAL 5045 Blunt Nose
HQ 5×3
DAL J5045
DAL T4045 Bull Nose TRI
DAL 4045 Bull Nose
Motors:
Rotorgeeks 2204 2300KV
Cobra 2204 2300KV
EMAX RS2205 2600KV (red bottoms)
Rotorgeeks 2204 2300kv
[supsystic-table-diagram id='3′]
Cobra 2204 2300kv
[supsystic-table-diagram id='4′]
EMAX RS2205 2600kv (Red Bottoms)
[supsystic-table-diagram id='12']
Comparison
[supsystic-table-diagram id='9′]
[supsystic-table-diagram id='10']
Summary
Cobras and Rotorgeeks 2300KV are very close, with Cobras slightly more efficient (3.9%) but producing marginally less thrust (-1.55%) on average
The EMAX 2205 2600KV Red Bottoms are beasts! With 1.3kg of thrust on 5″ and close to 1kg on 4″ tri-blade props, I see why they are hyped so much. The EMAX outdid Rotorgeeks and Cobra thrust by about 25% at the cost of -15% efficiency.
DAL Blunt Nose props are great – good balance between power and efficiency
DAL Bullnose are more powerful at lower RPM but very inefficient at full throttle (crazy high amps)
The HQ 5×3 is a clear winner in efficiency, yet producing respectable amount of thrust. The EMAX 2600KV with HQ 5×3 will rip around at 939g of thrust, drawing just under 21A.
Here is the raw data if anybody is interested