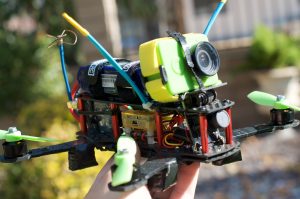 Zax was my first build that got me into FPV about 3 months ago. I've learn most of what I know about FPV from this build:
Crashing safely and with minimum damage (first basic skill)
Basic flight maneuvers
PID tuning
Flips and rolls
Acro mode
I've since build two other, better, builds: Tangra with my first taste of 4S and Farley with OneShot, fancy ESCs and motors. Increasingly more Zax sat unflown, collecting dust.
About a week ago I decided to give Zax a bit of an upgrade. For a while now Cleanflight was available on CC3D which is what Zax was using. OpenPilot was spiraling down and Betaflght was gaining a lot of interest, so I decided to make a switch.
Overall, it was really simple to flash over to Betaflight 2.1.4, downloading the OPBL bin file and using OpenPilot GCS recovery mode. The Cleanflight CC3D board description was also extremely helpful, specifically the port pinouts. The only "annoying" work was reordering the motor's signal wires. I knew I could have done it with channel mixing (mmix) but it was probably going to be as much effort.
I also decided to upgrade the FPV camera. Prior I was using the "Andoer Mini HD 700TVL 1/3″ CMOS NTSC 3.6mm" which was will always be special, as the first images I have seen flying FPV. However the FOV is a bit narrow and the casing prevents tilting the camera. I upgraded to the "Crazepony FPV Camera NTSC 1000TVL HD COMS 2.8mm Wide Angle Lens" which I had purchased a while back and was just sitting in my build box.
The new picture looks great. I gave it about 15° tilt.
Overall I am very happy with the result. Yes the ESCs are not OneShot, but Betaflight makes up some of the difference. The EMAX motors still provide good cruising power and the overall build is very light – the lightest of my fleet.
Here is the maiden video of Zax 2.0