Intro
I was fortunate to acquire a set of 1806-13 KV:2500 test samples from Tiger Motor. I usually try to get 5 motors (and ESCs) and keep one spare. Good thing that is what I did, as one motor was catching slightly. I think there is a small friction point between one of the coil housing and the magnet. The other 4 were good and smooth. For the record, I have not contacted anybody for exchange, but tagged it as normal pre-production issues and kept on building with the 4 good ones.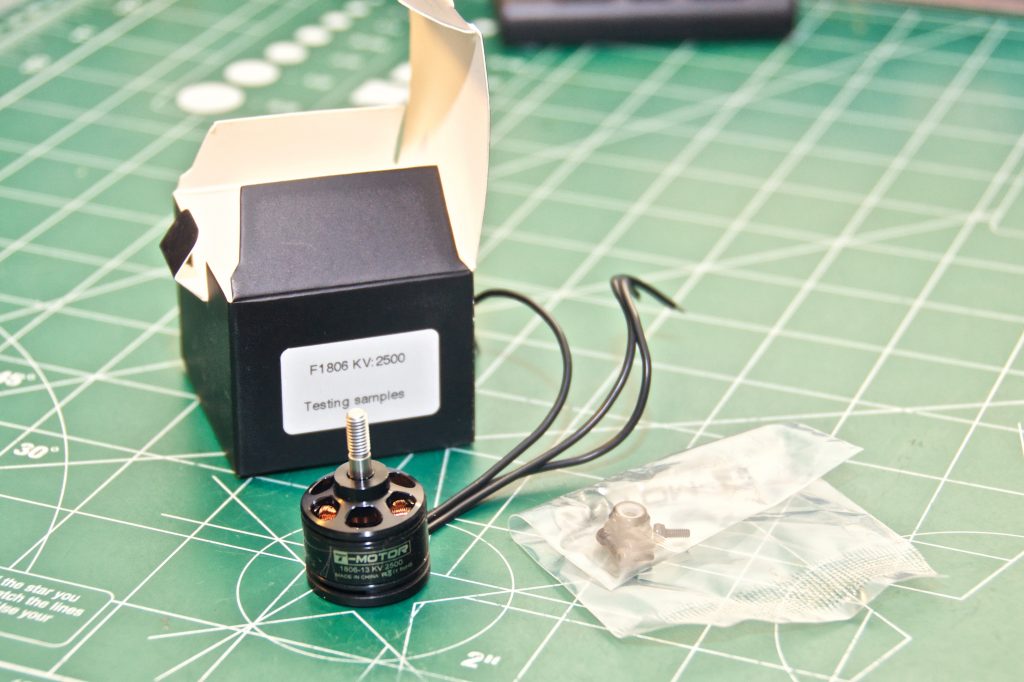 Each motor weighs 26g which is on the heavy side (for reference Cobra 2204 2300kv weighs 24.6g). The wires are long and should fit most mini-quad builds. The prop shaft is 4mm which is thinner than the 5mm popular the 18xx and 22xx class. This is a bit annoying as it requires prop adapters and carrying a different prop wrench. Overall the motor has a solid feel to it, with smooth rotation of the bell, strong and well-protected base. The winding wire appears a bit thin compared to the DYS 1806, but the coils look tidy.
The build
I wanted to go light to preserve power. The no-battery, no HD cam weight came to about 316g, which is not as light as I was hoping, but close enough. I opted for a QAV180 frame, not the lightest 180 but is very strong and versatile.
SPRF3 Flight Controller (Started with a Naze32 Rev6 but ran into bad gyro noise issues)
T-Motor 1806-13 KV:2500
LittleBee 20A ESC with BLHeli 14.4
DAL 4045BN, HQ 4045BN
FrSky D4R-II with telemetry
Eachine ET600R 600mW VTX
Pyro Drone 1/3 Sony Super HAD II CCD 650
Birdseye Mini 36mm V1.2 PDB
Micro MinimOSD
Lumenier GoPro QAV mount + GoPro Hero4 (took it down for some of the flights to reduce weight)
The Software, Tuning and Flight
BetaFlight 2.3.5
For a while I've been flashing BetaFlight on my quads. On this one, I decided to use the latest 2.3.5. A quick maiden flight showed the basics were ok, so I jumped into tuning. I mentioned above, my first flight controller choice was a Naze32 Rev6. I had no idea about the gyro noise issues at low looptime (Standard Betaflight has looptime of 1000). I noticed and heard oscillations right away. I spent several hours trying to tune them out. In the end I had to re-enable and jack up all the filters and reduce P and D to values that made the quad barely stable in flight. That is when I decided to swap the Naze32 for an SPRF3 board, which solved the gyro issues right away.
2Khz mode!
A wise man said "Anything worth doing is worth overdoing" so I decided to push it a further enabling 2KHz mode (500 looptime). There we no noticeable oscillations and the quad flew great, but looking at the blackbox log, the gyro is definitely noisier. For curiosity, the 2Khz is turned on by disabling the gyroscope low pass filter and with the D term filter already disabled as of 2.3.3, there really isn't much filtering going on.
I tried both 3S and 4S with 4045BN props (DAL and HQ). The quad flew tight and fast, but after each 2-3 min flight sessions the motors felt quite warm. Not really hot, but definitely not comfortable, even on 3S with a more casual flight.
BetaFlight 2.1.6
With the motors running too warm for comfort under BF 2.3.5, I decided to go back to the proven 2.1.6. Tuning was quick and easy, no gyro issues, slightly bumping the default LuxFloat P and I and reducing D until it felt "right". However the motors were still coming down warm, better than 2.3.5 but definitely not cool, especially on 4S. The following flight was with tri-blade props DAL T4045BN, first 3S then 4S. On 4S these props made it feel close to a race build, again keeping the GoPro off and using a light battery. The 4S flight was cut short due to me getting stuck in a tree. The video lines started appearing after a recent crash, perhaps a ground got loose or something.
Recommendations and conclusion
Increase the shaft size to 5mm
Resolve the heat issues (the bigger shaft and perhaps thicker winding wire might do it)
Keep the weight in check. The thicker and more protected base would justify around 26g but not much more.
The T-Motor 1806-13 KV2500 is smooth and fast, especially when used on a light build. Fully loaded it will struggle to compete with the average race builds, tho slimmed down it is not too far off. This seems like a versatile motor for sub-250 beginner to well-into intermediate build.
Update (Feb 15th, 2016)
I did another test session with DAL T4045BN tri-blade at an RC field near by. Surprisingly the motors we coming down cooler than before, even on 4S. This was one of the more enjoyable flights I had recently with a frame that size. I think this motor has a lot of potential and will make many of the more casual, efficiency-minded hobbyists happy while still letting them rip from time to time 🙂
Update (Mar 13th, 2016)
I took this build to the RCX race in OC fair grounds. She flew great. The tune, size and props were just right for the small track. Again only DVR footage.